For anyone who likes cake, Melbourne is a difficult place to be. The city has an abundance of cake shops and cafes; we all want to try them – but how many can we feasibly visit?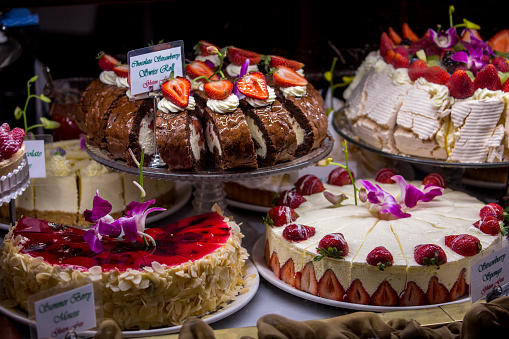 Melbourne has become a melting pot of cultures and cuisine, so it's no surprise that we're ranked one of the best cities in the world to eat! Whether you want to eat Michelin-starred food or your grandma's famous apple pie, there is somewhere for everyone. Here are some of the best cake shops in Melbourne.
Cakes by Anna Banana (Brunswick East)
Imagine it: fresh banana bread; warm vanilla sponge; creamy cheesecake…Now stop imagining and go to Cakes by Anna Banana – an all-time favourite. They bake their cakes daily and you can even request a customised design for birthdays and other special events.
This lovely little restaurant also does takeaway and delivery, which means you can spoil yourself with a cake of your choice even when your schedule is tight.
Voodoo Child (Brunswick)
With a name like Voodoo Child, you know it has got to be good! And indeed it is. They claim their coffee is 'the best in Brunswick,' and many people would agree with them.
The cafe's friendly atmosphere makes for great people-watching, but if you want to take your scrumptious slice of cake elsewhere, they'll happily package it up for you in biodegradable packaging so no one can judge you for taking half an apple pie home just because it's that good!
Salamanca Place (Brunswick)
Tucked away in Salamanca Place in the suburb of Brunswick is a little piece of pastry heaven. In the cake shop, you will find a range of cupcakes, cakes and slices in flavours such as vanilla, chocolate, lemon meringue and peanut butter.
New York Style Cheesecake (Brunswick)
If cheesecake is what your heart desires most in life, New York has got it covered for you! At this family-owned cafe, there are a plethora of flavours to choose from, with specialities including Nutella swirl cheesecake and marble cheesecake. You can also enjoy an American-style brunch here with all the trimmings – perfect food coma fuel!
Cafe Zoe (St Kilda East)
Another bakery that serves up customised cakes for birthdays and special events is Cake Zone. In addition to the standard vanilla, chocolate and red velvet cakes for which they are famous, they also bake their cakes from gluten-free ingredients – perfect if you have wheat intolerance or celiac disease.
Molly's (Clayton South)
What could be better than a French patisserie that serves up good coffee? One that does customised cakes! If you're planning a wedding or other important event, this cafe is well worth considering as one of your options. You can browse through their selection online and even request flavours not listed on their website – the possibilities are endless!
Cakes by Selina (Docklands)
This vegan dessert shop is known for its moist layers of deliciousness. They bake everything fresh so you know it'll be the tastiest cake you'll ever eat! Selina's cakes can be customised to suit your tastes too, so whether you prefer chocolate ganache or lemon meringue pie filling, they can accommodate your needs.
Lusso (South Melbourne)
Good Italian food is hard to come by in Australia, but this place nails it with its homemade tarts and gelato. It is notoriously difficult to choose which flavours of gelato to get here because there are just too many delicious options – coconut, salted caramel blondie, peanut butter…need I go on?
So make sure you have enough tummy space for one of these amazing treats!
So there you have it – the only difficult part is having to choose which cake you want first!